Just in time for the start of holiday shopping, The Misery/Love Co. has a something new for you! And if you buy 5 and mention seeing this post here, I'll give you a coupon code good for 25% off your next order! :D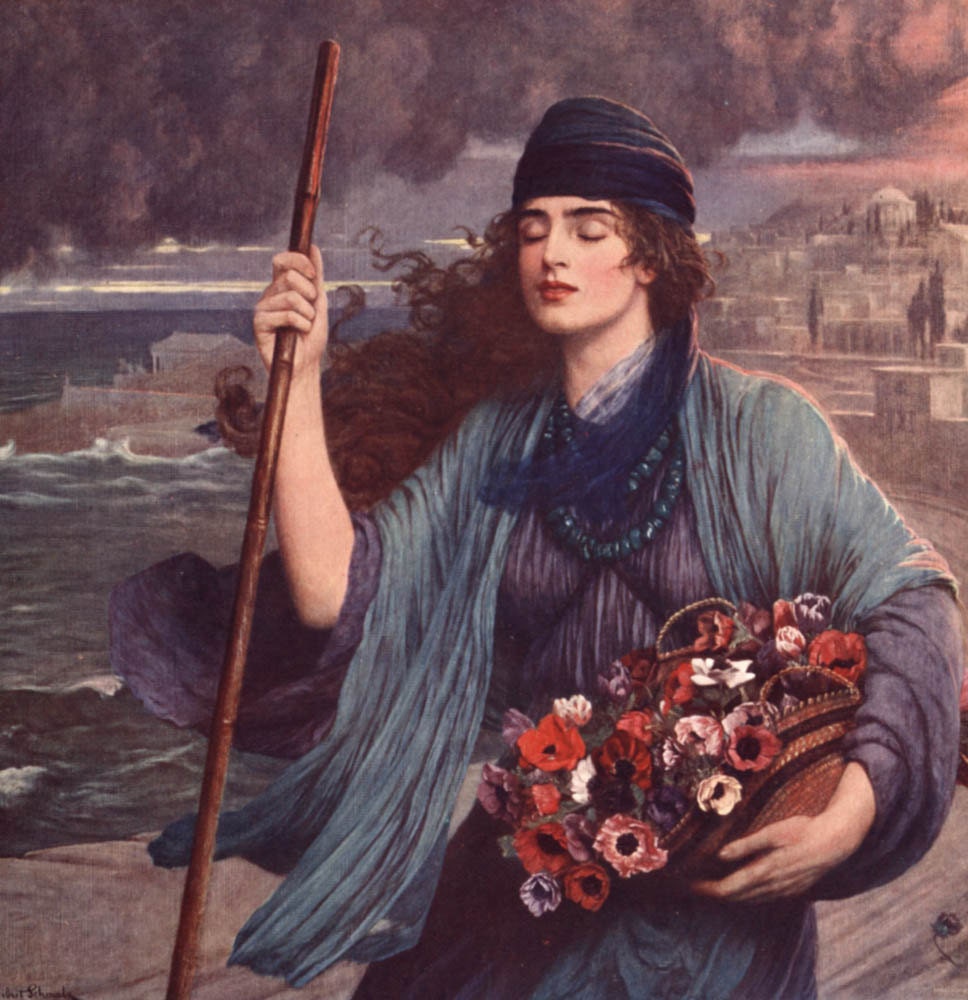 Thus conversing, their steps were arrested by a crowd gathered round an open space where three streets met; and, just where the porticoes of a light and graceful temple threw their shade, there stood a young girl, with a flower-basket on her right arm, and a small three-stringed instrument of music in the left hand, to whose low and soft tones she was modulating a wild and half-barbaric air. At every pause in the music she gracefully waved her flower-basket round, inviting the loiterers to buy; and many a sesterce was showered into the basket, either in compliment to the music or in compassion to the songstress--for she was blind.

"Buy my flowers--O buy--I pray!
The blind girl comes from afar;
If the earth be as fair as I hear them say,
These flowers her children are!

Do they her beauty keep?
They are fresh from her lap, I know;
For I caught them fast asleep
In her arms an hour ago.
With the air which is her breath--
Her soft and delicate breath--
Over them murmuring low!

On their lips her sweet kiss lingers yet,
And their cheeks with her tender tears are wet.
For she weeps--that gentle mother weeps--
(As morn and night her watch she keeps,
With a yearning heart and a passionate care)
To see the young things grow so fair;
She weeps--for love she weeps;
And the dews are the tears she weeps
From the well of a mother's love!"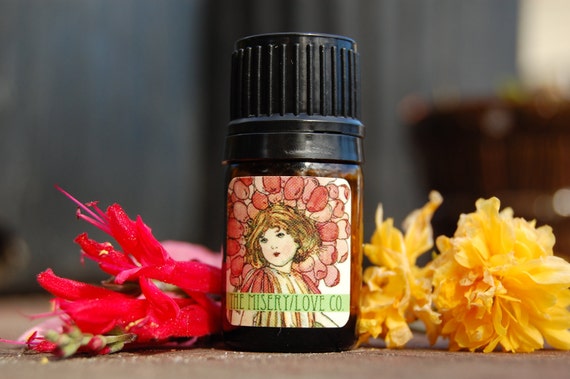 This line of perfumes is based on the character Nydia, from "The Last Days of Pompeii" by Edward Bulwer-Lytton and the painting of her by Herbert Gustave Schmalz. I was so inspired by the description of her being a mother to the flowers, this basket teeming with beautiful blooms she loved so much they were like her own children, and how she wept to part with them but had no choice. So heartbreaking and beautiful, so very like the core of The Misery/Love Co.'s mission statement of juxtaposing the bitter and the sweet.

She will blindly pluck one flower from her basket for you (one 5ml bottle of perfume with bottle color, label art, and scent of our choosing) and bestow it, her little flower child, upon you. (Note, if you wish she sell you more than one, you will receive all different ones. There are more than 20 different variations and 90 bottles in stock! And psssst- they make great stocking stuffers!). If the quantity you want is more than what is available here, please send a convo and I will set you up with a custom listing with the quantity you want.